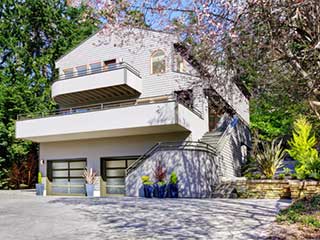 The material your garage door panels will be made of will determine a few different things, mainly how secure this part of your home will be, how much maintenance it will require, and whether or not it will be insulating. When you're planning on getting a new door, it's very important that you understand exactly what each material has to offer before you choose one.
Durability and Security
Steel is often the first material that comes to mind, as it has become quite a common choice for many homes. Steel garage doors offer enhanced structural integrity, which means they are far harder to break through, giving them a security edge. However, they aren't naturally insulating, and foam sheets will need to be added. This material can also have a faux-wood surface layer, giving the door an attractive look without the usual disadvantages. The only thing – as far as maintenance is concreted – that a steel garage door owner needs to worry about is rust, so if you live in a coastal region or in high moisture environment this may not be the perfect choice for you.
Beauty and Coziness
Wood is a great choice for those looking to enjoy the classic curb appeal associated with this type of material. A wooden garage door can significantly increase the value of your home through its sheer visual appeal that potential buyers will most likely love. This material is also a natural insulator, which can help you save money on energy in the long run. However, wood requires a lot of maintenance and needs to be repainted annually in order to keep rot and warping at bay. It's also not as durable and strong as steel.
Simplicity and Low Requirements
An aluminum garage door is an excellent choice for those looking for minimal maintenance and a low and affordable price range. Aluminum will not rust and won't need to be repainted or maintained regularly the way steel or wood will. However, it will dent rather easily, and won't offer the same insulation and security benefits the other materials will.
Think About The Brand
Apart from what the door will be made of, just as important is who will be making it. Clopay garage door models are known for their high quality and their reliability, and the wide range of choices the company has to offer can cover every homeowner's needs. There's also Raynor and Amarr, who provide quality models that are worth checking out. It's better to go with a name brand manufacturer that may cost a little extra rather than choosing a cheap replacement that won't last nearly half as long and will have you spending more money on repairs. Consult with our experts Garage Door Repair Studio City to make sure you're making the best decision for your specific needs.