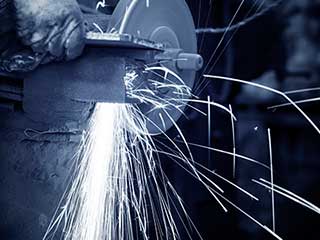 If your gate is suddenly having some issues closing or starts making a lot of noise every time you open or close it, our technicians can provide solutions, regardless of which part of the mechanism is responsible.
Aligning Your Gate
An automatic gate system gives your property the protection and security you need. But if it won't close properly, this security will be compromised; you need to get the problem solved quickly. Sometimes your gate may require replacement parts, such as new wheels, and other times it may become misaligned and will need to be set back on track, literally. Doing this correctly requires professional skill and training, which is why you should leave it up to our team.
Dealing With a Malfunctioning Opener
Your gate opener (sometimes called operator) is possibly the most important part of the whole system, as it is what allows it to become automated. Without a motor that works reliably you won't be able to get in and out of your property easily, so any opener related faults should be addressed by our expert technicians immediately. This electromechanical device is complex, and our team will identify the root cause of the issue by troubleshooting the opener until we locate the source of the problem. Any damaged part we discover, whether it's the circuit board, motor gears or some other component, we'll replace with a new one of a matching of superior quality.
Dents, Cracks And Other Types of Damage
Even a piece of equipment as tough and durable as your gate can be damaged; tracks can pick up dents, which can prevent your system from moving smoothly or will cause it to get stuck. Even the framework can be damaged. Wooden panels can break or rot, aluminum ones tend to dent easily, and even wrought iron gates can require some welding repair, especially when it comes to their hinges. Whatever the issue, you can count on our team here at Garage Door Repair Studio City to carry out the necessary work. So whether you have a swing or a sliding gate system protecting your property, we'll be able to help. Contact us today using our online system or simply give us a call.
In addition, we offer:
Wrought Iron Gates
Gate Opener Service
Residential Gate Repair
Program Doorking Intercom