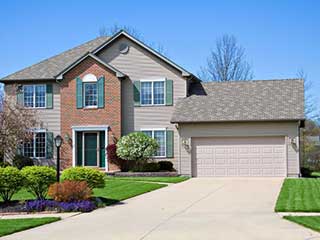 Our company specializes in servicing every type of garage door related need local residents may require. We understand that for many homeowners, the garage door becomes the main entry point to their house, and therefore its appearance and functionality should be in the best possible shape. That's why we're always on hand to provide fast high-quality repair services when you need them. The idea is to get your door back up and running as soon as possible, without you having to wait around for help to arrive!
Your Satisfaction Matters
We use state of the art replacement parts when fixing a problem, to ensure our work can be as reliable as possible. We also provide our customers with general tips on door maintenance and often do maintenance services for them. So whether it's a new door installation, maintenance, or just some repairs that you're after, our friendly and highly experienced team is here to help. We're committed to providing our clients the very best service and we're dedicated to making lasting improvements whenever we can. We value each customer individually and aim to form long lasting relationships with them through excellent customer service and workmanship.
Torsion and Extension Spring Replacement
Although torsion springs are becoming more popular in the market today, our team is well equipped to handle both types of units and we have extensive experience in their removal, adjustment, and installation. We can replace any broken or worn springs with minimal disturbance to your daily life and we'll be happy to give you some tips on future maintenance the new units may require. The replacement parts we use are of a high quality and the workmanship provided is second to none.
Expert Part Replacement
Whether you're looking for opener replacements, new panels, or roller and cable with improved durability, our team can help. The parts we use are durable and made by the best manufacturers in the industry. We pay great attention to detail when replacing parts and can ensure that whatever problem is causing your system to malfunction will be quickly and effectively solved.
Emergency Repair Services
A Garage door may need to be serviced for a variety of reasons, and whatever yours is, we're here to help. Sometimes a full replacement of its parts is not necessary; it's just a repair job, and while some issues can wait for a day or two, others can require urgent assistance and must be fixed ASAP. Whether its a matter of dealing with a door that got off track or a spring that broke unexpectedly, you can rest assured that our technicians will put the pedal to the metal and make it to you as quickly as possible.
Life Extension Maintenance
Keeping your door well maintained is incredibly important to the functionality and longevity of your door. We strive to provide efficient and excellent maintenance services that save our clients money in the long run. These services can include minor repair work, safety tests and worn part replacement. A little bit of oil can go a long way too, and we're here to help ensure you get the most out of your door and that its moving metal parts are properly lubricated to ensure their performance remains smooth and silent.
A Complete System Upgrade
Thinking of getting a new door or opener? Garage Door Repair Studio City is the company for you. With ample experience in the industry, our team prides itself on the professional new door and opener installation services we offer. Upgrading to new models can greatly increase the security of your home, and the convenience with which you operate this automatic system. We're one of California's leading service specialists, and you'll be more than happy you decided to go with our team.
Schedule an Appointment Today!

Complete Satisfaction

High-Quality Services

Fast Response
Easy-and-intuitive Online Scheduling